It started out as an assignment. But it became more than that.
Lauren Reynolds, Sara Ogg, and Ashlynn Taylor just graduated from Ole Miss. And as their senior project, they decided to focus on the issue of human trafficking.
They thought it was wise to bring awareness to our community on this issue. As they researched, they learned about sting operations conducted by our local law enforcement that resulted in a large number of men caught trying to "hook up" with underage girls. They learned about efforts in other parts of our state to bring awareness to the prevalence of the issue and the need to help victims. They learned about Transformation Garden, a safe place for women to be transformed by the love of Christ and His body of believers.
So, they coordinated an awareness event conducted via Zoom. They titled it Speaking Out on Modern Day Slavery - Human Trafficking Awareness Event. The event included talks by a number of leaders in our state who presented and answered questions for the participants – mostly young people – about the growing reality of sexual exploitation.
Reynolds, Ogg, and Taylor didn't stop there. They also coordinated a fundraiser to benefit the Transformation Garden. In doing so, they involved the community, continuing to educate along the way.
Local retail stores, restaurants, salons, and small businesses gave generously. Gift cards, in-kind items, and services were freely given. In turn, they set up a table at Life at Tupelo FP Church as well as Mid South Nursery with $5 raffle tickets.  The congregation and customers responded graciously. They raised over $1,600 to help survivors of horrendous, devaluing abuse experienced through sexual exploitative means.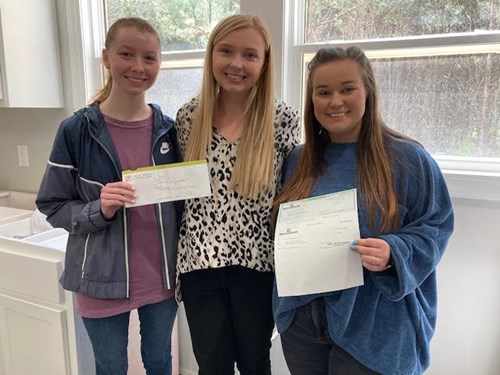 Reynolds shared that the raffle became another opportunity to bring awareness to the prevalence of sexual exploitation in our local community, as well as the risks, and truths about the ways in which people become victims.  
This was much more than a college project. It impacted their own lives in a deep way. As they learned, they educated others. They impacted an entire congregation. They involved the entire community.
What a fantastic job they did with every aspect of this project!  And, now they are each moving on to internships and jobs to put into practice their field of study in social work. Perhaps God used this project to reveal a purpose – an avenue of servanthood for their futures.
Whatever the case, God is using them – for such a time as this!